How to Install Grommets in Curtains?
By Curtainal on February 14, 2023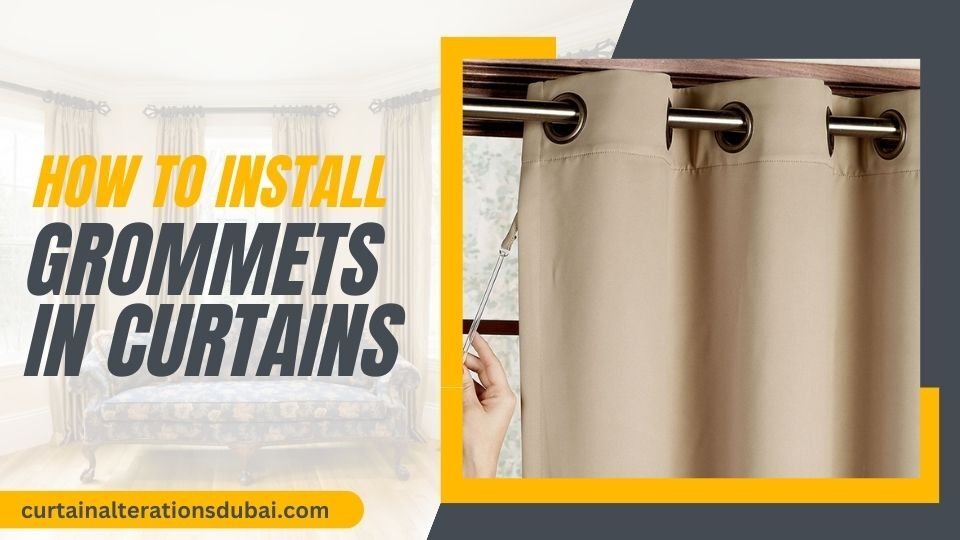 Are you looking for a way to enhance your curtains? You may want to add more texture or alter the appearance of the interior of your home. Adding grommets to your curtains is a simple and effective modification that adds a unique touch to any room in the house. 
If you're interested in adding grommets to your curtains, curtainalterationsdubai.com is the place to go. We're experts in curtain alteration and can help you get the perfect look for your home.
What Exactly Are Grommets?
Grommets are metal eyelets utilized to reinforce fabric holes. You can use them to attach curtain panels to a rod, hardware to a curtain, or even as a decorative element.
Grommets are available in various sizes and finishes, allowing you to find the ideal ones for your project. Here is what you need to know before installing grommets:
Grommets are available in various sizes. The most common size is 1/2 inch, but they are also available in sizes 3/4 inch and 1 inch. Select the optimal size for your project.

Grommets are available in various finishes. The most prevalent finish is brass, but they are also available in nickel, bronze, and black. Select the finish that complements your hardware or décor the most.

Installing grommets requires a specialized instrument. This device is known as a grommet setter and is available at most craft shops.

Installation of grommets is simple! Simply adhere to the directions included with your grommet setter.
Why Are Grommets Used on Curtains?
Grommets give your curtains a neater, cleaner appearance than typical hooks or rings. Additionally, they are easy to install and may be changed to meet various curtain rod diameters. In addition, grommets enable your curtains to move effortlessly on the rod, making opening and shutting them effortless.
How to Install Grommets on Curtains
Grommets are an excellent choice if you want to add more to your curtains. They are not only fashionable but also reasonably simple to install. Here's a step by step instruction on how to add grommets to your curtains:
Before beginning, lay out the curtain panel on a level surface and indicate the locations of the grommets. It is ideal to equally position them around 8 inches apart.

At each spot, create a tiny incision with a sharp knife or rotary cutter. 

Be cautious not to cut too deeply; you only need to make a tiny hole for the grommet to pass through.

Insert the grommet into the slit with the flanged side facing outwards. 

Utilize a hammer or mallet to tap the grommet into position.

Repeat steps 2 and 3 until all grommets are installed.
Equipment Required for Adding Grommets
To install grommets to your curtains, you will need a few specific pieces of equipment. Here is a list of necessities:
 A pair of sharp scissors

 A measuring tape  A chalk or fabric pencil

 A grommet installation kit 
Detailed Instructions for Installing Grommets
There are a few considerations to bear in mind while installing grommets on your drapes. First, you must get the proper size and kind of grommets for your curtain rod. 

Second, you will need to mark the grommet location on the cloth. 

And last, you must insert the grommets. 
Obtain the Proper Size and Kind of Grommets for Your Curtain Rod
The most frequent sizes are half an inch and five eighths of an inch. If you are still determining the size to purchase, measure the diameter of your curtain rod and choose the closest size. There are two primary kinds of grommets: plastic and metal. 
Metal grommets are more robust but costly, and plastic grommets are less priced but less sturdy.
Mark the location of the grommets on the material. You can bring the fabric to the light and draw with chalk or a disappearing ink pen where you want the grommets to go. Ensure that all of your marks have uniform spacing!
Installation of grommets This section might be tough, but if you take your time and properly follow these directions, you should be able to complete it First and after that you can hang your curtain with joy.
Installation of Grommets: Hints and Tips
When inserting grommets in your curtains, select a fabric with a high thread count. When attempting to install the grommets, a lightweight cloth will not hold up as well and may tear.
Use a tiny dowel or a chopstick to gently guide the grommets through the cloth if you have problems.

Once the grommets are installed, be careful while drawing the curtains closed so as not to overstretch the grommets and cause them to pop out.

Replacements for Grommet Curtains

Although grommet curtains are a popular choice for window treatments, they are not the only ones. There are a variety of alternatives to grommet curtains available.
Do You Know That Curtains With Pleats Is the Real Beauty of Curtain
Pleated curtains offer refinement to any decor. They are available in several designs and hues, giving them a flexible addition to any interior design.
Sheer curtains enable natural light to enter the space while maintaining the room's privacy. They are available in various colors and designs, making them suitable for any environment.
Tab Top curtains connect to the curtain rod by tabs, making them simple to hang. They come in various colors and designs, making them suitable for any environment.
A valance is a cloth covering the window's upper portion. It comes in various colors and designs, making it suitable for any space.
In The End
Grommet curtains are becoming very popular because they are made for easy DIY installation. Although you can find them pre-made online in many styles and colors, there are also plenty of customization options to make in the design and color you want.
Making your own grommet curtains is a great way to save money and have something unique and one-of-a-kind. You can even find online instructions for making your own grommet tools. Whether you've made your own curtains or bought them pre-made, check out our blog to learn how to care for your beautiful new curtains!